Description
A set of functional primitives for PHP, heavily inspired by Scala's traversable collection, Dojo's array functions and Underscore.js
Programming language: PHP
License: MIT License
Functional PHP alternatives and similar libraries
Based on the "Architectural" category.
Alternatively, view Functional PHP alternatives based on common mentions on social networks and blogs.
SonarLint is a free and open source IDE extension that identifies and catches bugs and vulnerabilities as you code, directly in the IDE. Install from your favorite IDE marketplace today.
* Code Quality Rankings and insights are calculated and provided by Lumnify.
They vary from L1 to L5 with "L5" being the highest.
Do you think we are missing an alternative of Functional PHP or a related project?

Add another 'Architectural' Library
README
Functional PHP: Functional primitives for PHP
NOTE: functional-php used to come with a C extension that implemented most of the functions natively. As the performance differences weren't that huge compared to the maintenance cost it has been removed.
A set of functional primitives for PHP, heavily inspired by Scala's traversable collection, Dojo's array functions and Underscore.js
Works with arrays and everything implementing interface Traversable
Consistent interface: for functions taking collections and callbacks, first parameter is always the collection, then the callback. Callbacks are always passed $value, $index, $collection. Strict comparison is the default but can be changed
Calls 5.3 closures as well as usual callbacks
All functions reside in namespace Functional to not raise conflicts with any other extension or library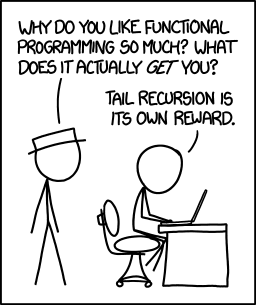 Installation
Run the following command in your project root:
composer require lstrojny/functional-php

Docs
[Read the docs](docs/functional-php.md)
Contributing
Fork and git clone the project
Install dependencies via composer install
Run the tests via composer run tests
Write code and create a PR
Mailing lists
Thank you